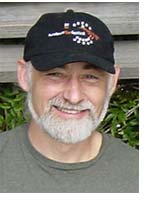 Mark Adler brings to his work as a composer a broad background in both film and music. At age 16 he created an award-winning animated short which the New York Museum of Modern Art acquired for its permanent archive collection. A year later, he was the recipient of an American Film Institute grant for his original screenplay. He studied piano privately for fifteen years, and was initially a music major. His return to music followed graduation from film school at UCLA, where he studied film scoring with David Raksin. In the early '80s Mark played keyboards for a number of groups in Northern California, including a stint with the Heart of Gold Band, fronted by former Grateful Dead vocalist Donna Jean Godchaux. (He reunited with Donna in 2004, and has periodically toured with her since.)
The 1980s were a renaissance for documentary film in the San Francisco Bay Area and Mark was soon scoring many of those projects. During this time, he also worked briefly as a music editor for such directors as Milos Forman, David Lynch, and Francis Ford Coppola. (His music editing credits include "Amadeus," "Blue Velvet," and "Godfather III").
Mark's feature film scores include the Oscar-nominated "Food, Inc.," directed by Robert Kenner, and "Bottle Shock," starring Alan Rickman, Chris Pine, and Bill Pullman. He has been a regular at the Sundance Film Festival, having scored ten Sundance films over the years. These include the Audience Award-winning Miramax film "Picture Bride." His soundtrack for that film was released by Virgin Records and the Main Title was featured in the soundtrack compilation, "Miramax Films Greatest Hits." Other credits include Paramount Classics' "Focus," based on the novel by Arthur Miller and starring William H. Macy and Laura Dern, with the soundtrack released by Milan Records; the Wayne Wang films "Eat A Bowl of Tea" and "Life Is Cheap"; numerous National Geographic Specials; and four Oscar-nominated feature documentaries.
He won a Primetime Emmy for his work on HBO's "The Rat Pack," which featured Ray Liotta, Joe Mantegna and Don Cheadle. Other TV movie scores include Hallmark Entertainment's "Forbidden Territory: Stanley's Search for Livingstone," starring Aidan Quinn and Nigel Hawthorne (for which he received a Primetime Emmy nomination), "Flowers For Algernon" starring Mathew Modine, and four Hallmark Hall of Fame productions.
He wrote and produced source music for the Philip Kaufman films, "The Unbearable Lightness of Being" and "Henry and June," and was involved as a producer in the recreation of indigenous Brazilian music for the Saul Zaentz production "At Play in the Fields of the Lord." He composed original music for "The Road To Memphis," directed by Richard Pearce, as part of the Martin Scorsese-produced series, "The Blues." This range of experience has resulted in an eclectic musical style, often drawing on jazz, folk, world music, and traditional orchestral idioms.
Mark is a former vice-president of the Society of Composers and Lyricists. He has served on the Board of Governors of the Academy of Television Arts and Sciences and is a member of The Academy or Motion Picture Arts and Sciences. As a performer, he can be heard playing piano on his scores for "Eat A Bowl of Tea," "Picture Bride," "Focus," "Marilyn Hotchkiss' Ballroom Dancing and Charm School," and "The Lost Valentine."
. . . back to top
AWARDS & NOMINATIONS
COMMAND AND CONTROL
2016 Hollywood Music in Media Awards—Winner for Original Score, Documentary
MERCHANTS OF DOUBT
2014 Hollywood Music in Media Awards—Winner for Original Score, Documentary
FOOD, INC.
2010 Cinema Eye Honors Nominee for Music
THE RAT PACK
1999 Primetime Emmy Winner for Music Direction
FORBIDDEN TERRITORY: STANLEY'S SEARCH FOR LIVINGSTONE
1998 Primetime Emmy Nominee for dramatic underscore (miniseries or movie)
THE LOST WORLD OF THE HOLY LAND
Merit Award for Music, 2002 International Wildlife Film Festival
INSIDE THE WHITE HOUSE
1996 News and Documentary Emmy Nominee for Original Score
CALIFORNIA FAST FORWARD
1985 Northern California Emmy Winner for Original Music
INVOLVEMENTS
MEMBER: Associate Member of Pacific Resident Theatre
BAND MEMBER: Donna Jean Godchaux Band
FAVORITE LIBRETTIST: Michael Maltese